by meditative - October 17th, 2015.
Filed under:
Insights for Mindful Intelligence
,
Yogi
.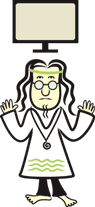 Most days are like watching a television screen where several channels are broadcasting images & information all at the same time. It may seem rather chaotic, but the mind works real hard at trying to attract our attention.