by meditative - October 18th, 2014.
Filed under:
Insights for Mindful Intelligence
,
Mindful Intelligence Models
.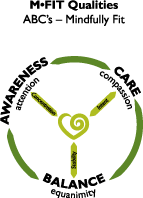 The more we deliberately practice mindfulness both formally and informally, the more refined these inner capacities of awareness, balance & care will become… and as we continue to draw upon our heartfelt energy and intention to work with ourselves, we may discover and better understand ourselves. With time & patience, our level of concentration becomes more focused & precise so that we may clearly notice the subtleties of our mind and of our being.
Cultivating a more balanced perspective in observation and acknowledgment, we become more stable & relaxed- an abiding attention that is focused, purposeful & nonjudgmental.
To come to know the nature of our own mind and the essence of our own humanity is a process that may only sustain & evolve with an abundance of heartfelt intent. The care & compassion we bring to this purposeful self-inquiry- this transformational self-discovery- becomes a sustaining force in our willingness to continue despite the powerful grip of our habitualness to live in the absence of enlightenment and of the potential for genuine fulfillment…
Click the following link to view a larger diagram highlighting the qualities associated with being more mindfully fit… M•Fit-Diagram.