by meditative - November 25th, 2015.
Filed under:
Mindfulness for Parents & Children
.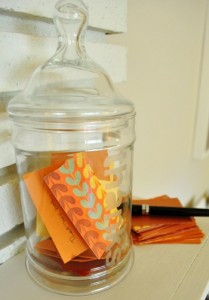 Inspired by Greater Good: The Science of a Meaningful Life
Here is a wonderful little practice you can do with your Thanksgiving day guests- adults and children. Have family and/or friends leisurely write down what they are truly grateful for on a small piece of paper. Keep it simple.
The notes are put in a jar and read at dinner. You might even gather the notes and put them into a scrapbook to remember the occasion.
Remember that giving thanks is the very point of Thanksgiving…