by meditative - December 31st, 2014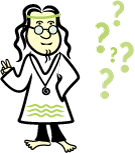 Everyday we are confronted with situations where we simply do not know. 'Not knowing' is an opportunity to awaken our curiosity- to open ourselves without preconception to what is directly before us. It's an invitation to explore & observe even seemingly incidentals that might yield helpful insights. "Not knowing" allows us to pay closer attention and connect with things in new, fresh ways. It's slowing down & shifting from an expert's mind of making things happen to a beginner's mind and letting things happen.
It's making peace with the unknown by simply living the questions.