by meditative - June 20th, 2014.
Filed under:
Mindful News, Events, & Resources
,
Mindfulness for Parents & Children
.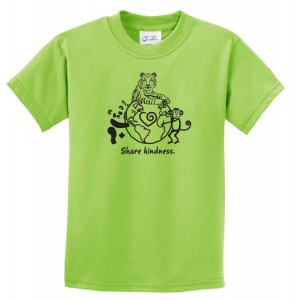 All of the illustrated characters for the "Meditative Moments" website were inspired and created to help us remember our inherent capacities for present-moment awareness and well-being.
Our "MyMeditative Kidswear" t-shirts are fun simple designs. They offer kid-friendly illustrations and sentiments that remind us of the natural goodness and kindness already within us.
Designed in Bethany and handcrafted in Woodbury, Connecticut with a homemade screen printing press and eco-friendly water-based inks, these heavy-weight (6.1 oz.), preshrunk, 100% cotton t-shirts make a fine choice in kid's wearable all year long.
A portion of our t-shirt sales is donated to the Connecticut Children's Medical Center.
If curious, take a couple of moments to view our initial t-shirt offerings. Click here, or the link in the upper right-hand corner of the Meditative Moments' "home page" for our retail site. We have a number of other designs we'll be offering for children & adults in the near future. Custom designs are also possible for groups, schools, and youth organizations.
Please feel free to email us with your comments or inquiries.
Be aware and be well…