by meditative - October 23rd, 2015.
Filed under:
Mindfulness for Parents & Children
,
Reflections from Bodhi
.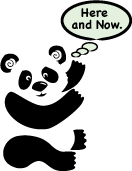 What matters most is grounding our attention to what is 'here and now'. The past and the future are simply events- constructs we create in our own minds. Our direct experience is always here for us… happening in the present moment… arising & passing away, "right now!" 
Having & sustaining awareness for what is happening in this moment gives us a sense of presence… of mind and of being.
To master the moment… is to simply stay with it, fully present with our full attention… knowing what is happening while it is happening… and knowing what we are doing while we are doing it.