by meditative - January 26th, 2016.
Filed under:
Insights for Mindful Intelligence
.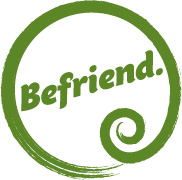 Coming home to ourselves, we discover the friend who has always been there for us.
It's difficult to befriend a mind & body we often take for granted… diverting our attention elsewhere as what happens within us tends to run "automatically" unless there's a problem, or unless we make the conscious effort to be still and to take notice of our own interiority. In general, we tend to be a much better friend to others than to ourselves. We may suspend 'judgment' to others we regard as 'friends', but our own 'self' is often held to a higher level of expectation, standard, and ideal. Support & care may be readily available to others 'close' to us, but seemingly little may be offered to the one 'closest' to us.
Coping & adapting to everyday challenges & difficulties is hard enough even with the help & support of significant others, but real change, growth, development, and healing necessitates that we come to befriend our own process of 'being' & 'becoming'- that we come to know, accept, and care for who are… where we are… as we are. Self-awareness and self-compassion opens us up to befriending the whole of our being- to all of our vulnerabilities- and to all of our potentialities. The clearer and deeper we come to listen- to understand- and to relate to ourselves- the more skillful we become in attuning ourselves to others.
In this process of 'befriending' ourselves- we learn to be patient- to be forgiving- to be honest- to be sensitive- to be caring- and to be firm in our advocacy for someone who is always there for us.